Ok, so you girls want to have some fun and win prizes? Get to know the
Who's That Girl Design Team
… We would LOVE to get to know YOU!
START THE HOP HERE @
THE WHO'S THAT GIRL CHALLENGE BLOG
, then hop along to each team member's blog to see their wonderful takes on our VERY FIRST CHALLENGE!
Our first challenge for 2010 is One Word. But not just any word, we want to know the word that describes who you are as a person. For this challenge pick a word that tells who you are and what you are all about!
Here is my layout for this challenge!

So after debating about my word, and in the end a long discussion with Bree, I determined my word is maternal! I am the oldest of three kids and have always been a little mom to both of my siblings. Kacie even refers to me as "Mom Number 2"! I have also always been the type of person that needs to make sure everyone is taken care of. I often put others first before myself just to make sure that everyone is OK. Then there is the biggest change that will be happening in my life soon. I am expecting my first child at the end of April. I have always wanted to be a Mom. So, ready or not... HERE IT COMES! Time to test those maternal instincts!
1. One lucky person who leaves a comment on all of our blogs in the DT blog hop will win this collection of goodies: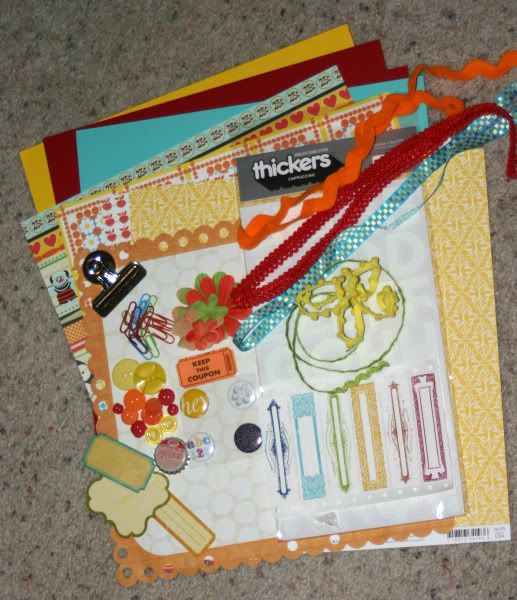 2. One person who does the challenge and posts in the Flickr group will win this collection of goodies:
3. Since it's my birthday today, I am also going to pick a random winner out of those of you that post a comment here and become a follower of my blog for an embellishment goodie pack!

Next, hop on over and check out
MARA'S
blog. ENJOY!
Here is the order in case you get lost along the way:
Who's That Girl
Jessica*Bree
Kim
Mara
Carla
Sara
Aimee